Do you know that feeling of absolute elation and happiness? You know the one I mean? The one where you feel truly accomplished. Successful. Joyful. If you don't know that feeling then I pity you. I've had this experience on several occasions. Many occasions. I am a happy kind of person and I find a lot of joy in simple things. And the not so simple things as well.
The end of my final year placement. Picture, a fourth year student teacher, kneeling in the centre of the classroom floor. It is the beginning of the final day. The bell has rung. Students are flooding the room, bright-faced, reader bags in hands, lunch boxes swinging by the crook of their arms. They are ready for just another day. For me, it the last day of a six week (but even longer than that since I started visits at the beginning of the year) journey. I am exhausted. But I have one last reserve of energy, and it is saved for this. One little girl makes her way up to me. She is not a shy child, but she is standing off, timid. In her hands she clutches a wrapped gift. I look at her. She looks at me. Slowly, and with gathering speed she approaches and flings her gift in to my hands. She looks at me expectantly, with excitement. Her dad calls from across the room "it's a practical gift".
I open the card…
To Miss Smart
it's in her handwriting. The rest is transcribed by her parents.
She has signed the card I Love You followed by her full name. She tells me she wrote her name all by herself. I feel proud. And sad. And so much warmth. And happiness. The gift was practical indeed. A binder folder with One Direction on it and another note written by the student. This kid knows me. We have One Direction dance parties at the start of lunchtime, I am not ashamed to admit – I also convinced the kids that I was going to marry Harry Styles.
This was the first student in a whole host of children that rolled through the door bearing cards and gifts. I don't hold much in store by presents, but to me words are everything and the thoughts and feelings behind gifts from children are everything. Dear Miss Smart, Thank you for teaching us and me and good luck. Goodbye Miss Smart. A few hand made their cards, with glitter glue, and stickers and all the wonderful things that five-year-old children view as precious. Thank You Miss Smart. Have a good time at teacher school. You've been a fun teacher and you are really beautiful. Thank you for teaching me. They have all tried to sign their own names. It makes me proud. We have loved having you with us this year. Good luck in the future. The pictures they have drawn are astoundingly good for their age. You are going to make an awesome teacher. We will miss you. These are little human beings. Tiny people. They make me feel successful. They make me feel accomplished. They make me feel joyful.
I am kneeling in the middle of a classroom floor, at 9 o'clock in the morning, withholding tears because it is the last day that I get to be their teacher. And it makes me hopeful. I am hopeful that I get to feel like this again. When I graduate at the end of this year, I will become a qualified teacher, and one day, I will have a class of my very own. I hope they are like this class. And I hope they different because with every class comes new children with different personalities and different dynamics, and I hope that each time I finish with a class I feel like I have made a difference to them like I have with these kids.
As for my mentor teacher, I can't begin to say what she has done for me, or begin to describe my gratitude. She trusted me with her class, and I hope that in her eyes I have done her justice. She is an incredible teacher with the exact kind of teaching style and philosophy I aim to have myself. Essentially, I want to be her when I grow up. Everything she does is built on the foundation of relationships, active play-based learning, and through integrating every aspect of the curriculum for holistic educational experiences. I will post again on my professional blog  to talk more in depth about the education and curriculum/teaching side to placement, but for the purpose of this post I really wanted to talk about the emotional aspects involved. For me, placement was incredible. It was challenging and difficult, and it was intense and overwhelming. But it was also a time that I will always look back on fondly, I was able to experiment, and to challenge the students, to try new ways of learning, to trial my own ideas and modify them, and to learn from my experiences.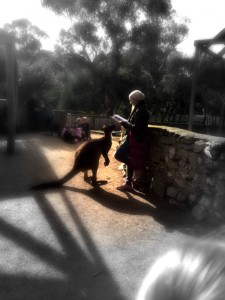 The most valuable thing I took away from my placement is how vital building relationships are in the classroom. When I first started out there were times that I questioned my ability to command control of the class. But I found by treating the students with respect, and seeing them as real people with real human needs, thoughts and feelings, and by trusting them, they in turn did the same back. They trusted me, followed me, and listened to me with respect. I made the time for them, and they made the time for me. I cannot stress enough how important giving pre-service teachers these kind of opportunities is. If you are a mentor teacher, or school leadership, all I can say is give your students a chance, treat them well, because I have fostered a wonderful, lifelong relationship with my mentor and we have learned a lot from one another. If you are a pre-service teacher, or thinking about studying teaching, do it and give placement your all. Take the time and make the effort with your teacher and with the students. It is so completely worth it. Invest yourself. And Invest IN yourself. You can do it, and you will make it!
Do you know that feeling of absolute elation and happiness? The one where you feel truly accomplished? Successful? Joyful? I know that feeling. And it is because I have finally made the transition from University student to teacher. And I took the time to enjoy the journey.